What 436 people say about Fleurie
Write a review
---
"Opnieuw eerlijke en verfijnde gerechten in een leuke sfeer"
Dit was de 3de keer dat we hier gegeten hebben en het was weer de moeite. De wijnselectie mocht er ook zijn, al was deze licht aan de duurdere kant, maar over het eten en de bediening niks dan log.
Jan Eerdekens
at 21 October 2020
Verified
---
Super
Lien Stienaers
at 19 October 2020
Verified
---
"Wederom zeer tevreden "
Zeer lekker en verzorgd eten.
P en M
at 19 October 2020
Verified
---
Gezellig culinair avondje met familie. Bediening en eten waren top, zoals gewoonlijk. Weer nieuwe smaken geproefd.
Familie
at 18 October 2020
Verified
---
"Genieten genieten genieten!"
Geweldig goed gegeten. De bordjes zijn ware kunstwerkjes. Vriendelijke bediening! Niets op aan te merken!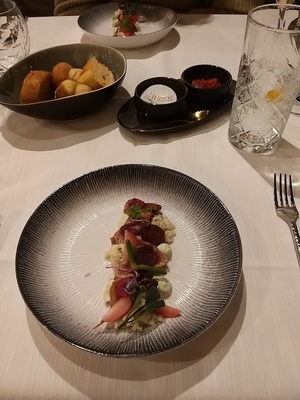 Evelien
at 13 October 2020
Verified
Baan naar Bree 27 3990 Peer
About Fleurie
The warm welcome and the impeccable service in the Fleurie Restaurant bear witness to professionalism and hospitality. The entire team makes every effort to ensure that guests can return home with a sense of satisfaction after an excellent lunch or dinner. Everyone feels really at ease here, and the menu has something for everyone, including the children. The kitchen team is working hard to prepare excellent dishes that are prepared with great care. When the sun is out, all these delicious creations are gladly served on the terrace.
Reserve a table
Reserve a table