What 48 people say about King of India
Write a review
---
"diner"
het verrassingsmenu was heerlijk !!!
catharina gulickx
at 07 March 2020
Verified
---
Lekker gegeten en goede service..
Shahin Mansour
at 04 March 2020
Verified
---
Wij hebben lekker gegeten.....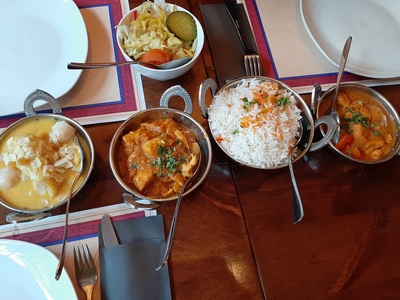 ---
"Een warme, gastvrije personeel. En ik meen dat het de eigenaar was: wat een geestige, bijzondere gastheer deze meneer."
मेरी तारीफ, वेटर के लिए, शायद मालिक की। मैं अपनी बेटी के साथ शनिवार 29 फरवरी को प्लस माइनस 8 बजे से लगभग 10 बजे तक मेज पर बैठा रहा। घंटा
Jacqueline van Geeerenstein
at 02 March 2020
Verified
---
Eten smakelijk en goed
Service vriendelijk
Als erg druk is wat vol en langer wachten
Els Mau asam
at 01 March 2020
Verified
Kortestraat 8 6811 EN Arnhem
About King of India
Restaurant King of India
Savoury papadums, spicy curries and big pieces of naan to tear off with your hands (or your teeth?): there are days where you just ache for Indian food.
If this occurs in the vicinity of Arnhem then remember that King of India is a good address. Friendly personnel, well prepared food, an exotic decor and the possibility of outside dining when the weather allows it.
Reserve a table
Reserve a table