What 1313 people say about De Pastorale**
Write a review
---
"Hemelse ervaring"
fantastische service / overheerlijke maaltijd / zeer aangenaam mooi kader
Ilse Luc
at 09 October 2020
Verified
---
Zeer lekker in mooi interieur genoten , en zeer vriendelijke bediening
Frans Put
at 08 October 2020
Verified
---
"Super lekker en top behandeling!"
Na herhaaldelijk proberen om te boeken toch eens binnengeraakt, en dan nog voor mijn verjaardag. Het eten was super lekker, fantastische aangepaste wijnen en een fantastische showbediening aan tafel ( vooral het tafereel met de boter was spectaculair) Als extraatje van de chef kregen wij een extra dessert. Zeer leuke geste, bedankt!
Peter Van de Vivere
at 08 October 2020
Verified
---
"Super "
Super, geweldige ontvangst met topbediening! Borden waren heel gevarieerd, een streling voor het oog en vol verrassingen. Leuke en gezellige sfeer. Het interieur is er ook prachtig! Leuke ervaring!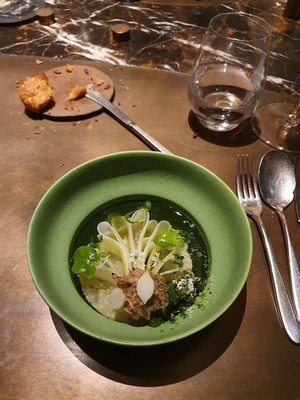 Julie van den eynde
at 08 October 2020
Verified
---
Service & de wijnen top, bij de gerechten jammer maar nergens het "waauw" gevoel. Wel origineel & sympathiek was de boter chariot waar à la minute je smaak naar keuze werd op geprepareerd.
Alex
at 08 October 2020
Verified
Laarstraat 22 2840 Rumst-Reet
About De Pastorale**
At two star restaurant Pastorale** you are at the right place, if you want to enjoy an exceptional culinary experience, which is dominated by pure pleasure. Bart De Pooter and his team welcome you in a renovated, modern restaurant that dates back from 1830. The stylish decor is combined with contemporary art by Arne Quinze, and in the garden and at the entrance you will be welcomed by sculptures of Jan Fabre.
You will quickly determine that the interior is an indication for the culinary delights that appear on the dishes. Chef Bart De Pooter earned his reputation - and two stars - by establishing sophisticated dishes by only using fresh products, preferably from the region. The perfect balance between products and textures of his dishes are a real feast in the mouth and reveal the pure emotion and passion that the chef puts into his work.
Reserve a table
Reserve a table