What 541 people say about De Steenen Tafel
Write a review
---
Het eten was bijzonder en echt lekker! De 2 personen in de bediening waren erg vriendelijk en wisten waar ze het over hadden. Zeker een aanrader om bij de Steenen Tafel te eten!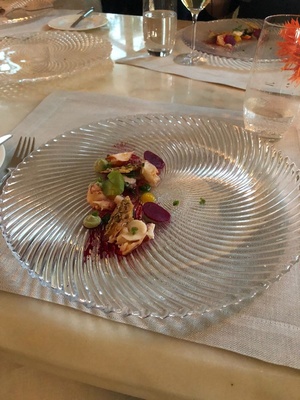 Pim
at 21 September 2020
Verified
---
Was een klein feestje mede omdat we op het terras konden zitten met een prachtig uitzicht over een bosrijke omgeving, we voelden ons erg welkom,er was een serveerster met veel verstand van wijn en daar vol passie over vertelde.
Anja Hernaamt
at 16 September 2020
Verified
---
"top avond"
Heerlijk eten in een sfeervolle omgeving met professioneel en vriendelijk personeel. Verassende gerechten die de smaakpapillen prikkelen. Voor mij het beste restaurant in Arnhem.
Dirk
at 15 September 2020
Verified
---
Uitstekend
PR Bosman
at 07 August 2020
Verified
---
"Klassiek restaurant op het hoogste punt in Arnhem"
Heerlijk 4gangen menu gegeten. Fantastisch personeel, heel sfeervolle lokatie. In het restaurant is het wel iets rumoerig.
Erik Steenbergen
at 08 March 2020
Verified
Weg achter het Bos 1 6822 LV Arnhem
About De Steenen Tafel
Restaurant de Steenen Tafel is a restaurant with a, particularly rich history. The restaurant is located on the most beautiful and highest point of Arnhem, in a water tower in Klarenbeek park.
Cooking is fair, simple but above all tasteful. The dishes are classic yet innovative. The combinations are kept simple, to allow each ingredient to stand out separately and perfectly.
At Restaurant de Steenen Tafel we work with regional products from small artisan producers. In the game season, they receive their meat from the Veluwe and from the Ooijpolder. In the spring and summer they receive vegetables from Marianne's garden. She grows with love, the fully organic vegetables, and the herbs.
Reserve a table
Reserve a table