What 261 people say about Mooii
Write a review
---
"Een heerlijke avond gehad!"
Heerlijke gegeten. Heerlijke gerechten en super lekkere wijnen. Daarbij was de bediening geweldig. Een aanrader!!
Zand-05
at 12 September 2020
Verified
---
Eten was heerlijk komen zeker terug. Alleen snelheid van uitserveren kon beter.
Mathieu Raafenberg
at 12 September 2020
Verified
---
"Restaurant Mooii"
Perfecte avond, alles was goed. Het eten was perfect, zeer smaakvol. Het wijnarrangement was verrassend en paste perfect bij het eten. Bediening is vlot en gezellig. De ambiance in het restaurant is super. Wij komen snel weer!
Linda
at 12 September 2020
Verified
---
"Beter kan bijna niet"
Op deze locatie we hebben we rustig kunnen genieten van ons 4 gangen menu met een wijn arrangement, de wijnsoorten werden goed gepresenteerd met beschrijving herkomst. Het eten was ook perfect zo ook de service en de sfeer en hebben dan ook genoten van deze avond.
Fred Lantinga
at 07 September 2020
Verified
---
"MOOII avondje uit"
Echt lekker gegeten , goede service en fijne sfeer.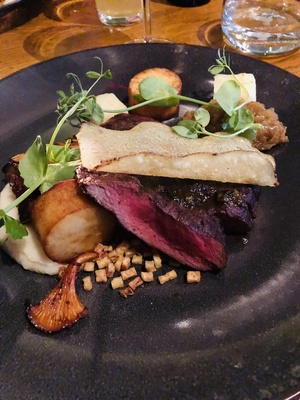 Rene
at 06 September 2020
Verified
Oost-Wijnstraat 8-16 3011 TZ Rotterdam
About Mooii
Restaurant Mooii is located in the Old Harbour of Rotterdam in a historic wine warehouse. It is a modern restaurant with a warm and romantic interior.
The cuisine is French but is strongly influenced by other cuisines such as the Asian. On the menu, there are scallops, Zeeland beach crabs and oriental coconut soup. Be surprised by the quality of the dishes, the fresh and seasonal products.
The chef manages his brigade perfectly. The close-knit team shares its passion and thus creates brilliant new dishes of high quality. These are made with sustainable and organic products.
Reserve a table
Reserve a table