What 46 people say about De Klok
Write a review
---
"Afhaalmenu in coronatijd"
Gisteravond een afhaal menu gehaald bij de Klok. Dat was goed verzorgd en smaakte uitstekend.
M van der Heul
at 13 April 2020
---
Heerlijk gegeten, er wordt met aandacht en liefde en veel smaak gekookt en de sfeer is aangenaam met attente bediening, kortom een aanrader.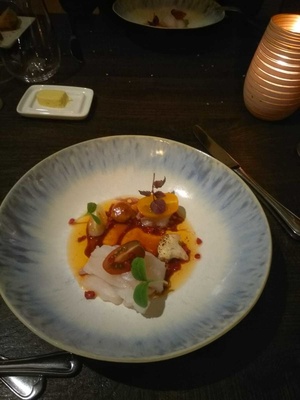 I. Mulder
at 15 March 2020
Verified
---
Smaakvol en sfeervol verrassingsdiner
Trudie Rigter
at 05 January 2020
Verified
---
Eerste gaan 2 stukjes haring, dit was nog gewaagd en de tweede gang 3 stukjes paling, weinig bijzonder.
Ron
at 21 October 2019
Verified
---
"gezellige avond"
Verrassende en lekkere voorgerechten. Het kaasplankje was een goede keuze, met drie geurige konfijten om de smaakpapillen te stimuleren. De bediening was attent. De sfeer goed. We konden gedurende de drie uur dat we er zaten, rustig bijpraten.
Guus Balkema
at 10 October 2019
Verified
Kloksteeg 3 2311SK Leiden
About De Klok
Restaurant De Klok is located in the old center of Leiden. The characteristic building can be found at the foot of the Pieterskerk. Everything is done at the restaurant de Klok to ensure that you don't miss out. The culinary inspiration comes from the classic kitchen and is complemented by influences from all over Europe. The menu is full of different dishes, something for everyone! From pure clear flavors from Scandinavia to warm full flavors from the south. Enjoy the delicious culinary creations of restaurant De Klok! Come quickly.
Reserve a table
Reserve a table