What 53 people say about Costarozzi
Write a review
---
Om 19u gereseveerd, liep iets uit door de drukte, maar erg netjes opgelost met een gratis drankje. Eten was goede kwaliteit! En een aardige eigenaar! Zeker een aanrader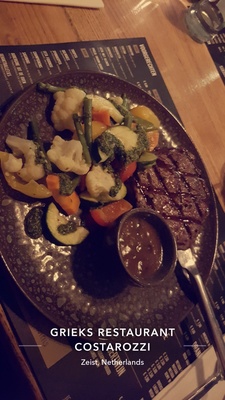 Maria van Alfen
at 12 October 2020
Verified
---
Prima gegeten en goede service en vriendelijk personeel.
Pieter Reinhard
at 20 September 2020
Verified
---
"Heerlijk gegeten."
Heerlijk gegeten , met een lekkere (tap) bokbier erbij.
Papasan
at 19 September 2020
Verified
---
Prima restaurant voor herhaling vatbaar
jack von Biela
at 17 August 2020
Verified
---
"Alles top!"
Na eerdere ervaring opnieuw alles naar wens
Frank
at 27 July 2020
Verified
Steynlaan 52 3701 EH Zeist
About Costarozzi
Greek restaurant CostaRozzi in Zeist opened its kitchen and doors for guests for the first time in 2016. The restaurant has a different appearance than the traditional Greek, and the location, menu, service and hospitality is what makes CostaRozzi unique.
They have a creative menu in which Greek dishes predominate, but where you sometimes also experience some surprises. All dishes are freshly prepared every day from fresh ingredients from their own kitchen.
Come visit CostaRozzi and experience the Greek glory!
Reserve a table
Reserve a table