Grieks restaurant Olympia
75%
What 19 people say about Grieks restaurant Olympia
Write a review
---
Je moet alleen veel te lang wachten tot dat ze het volgende gerecht komen brengen. Dit mag veel sneller. En wanneer je je voorgerecht pas krijgt bij het hoofdgerecht is er toch iets mis volgens mij.
Joke
at 18 October 2020
Verified
---
Goed eten met een goede service.
Roy Vos
at 26 August 2020
Verified
---
"Heerlijk gegeten "
Heerlijk gegeten top bediening alles goed door haar geregeld. sfeer en aankleding zou wat verbeterd mogen worden.
Gerrit Wolff
at 10 August 2020
Verified
---
Slecht , bediening , slechte ambiance, eten duurde 3 uur voordat we klaar waren. eten niet lekker, bin voor 4 gangen afzetterij.
PETJE NIET AF
at 02 August 2020
Verified
---
Eten was lekker maar bediening was langzaam hebben 1.5 uur binnen geweest voor een soep en een hoofdgerecht.
De serveerster was wel heel vriendelijk en aardig.
We hebben een lekkere avond gehad overal.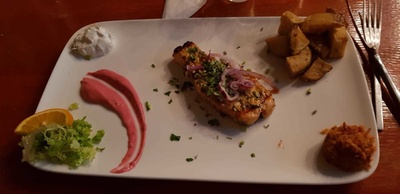 Jordin Van Doorn
at 16 July 2020
Verified
Melkmarkt 20 8011 MC Zwolle
About Grieks restaurant Olympia
Many enthusiasts have already found their way to restaurant Olympia in Zwolle, the place where the best authentic Greek dishes are prepared in a typical atmospheric Greek ambiance.
They have put together a varied menu with a large number of Greek dishes with an Olympic allure; there is more than enough choice for each and everyone! They also like to take into account all your special requirements.
Try it yourself at Olympia!
Reserve a table
Reserve a table