Gasterij het Oude Posthuys
100%
What 35 people say about Gasterij het Oude Posthuys
Write a review
---
Heerlijk gegeten! Ontzettend lieve mensen en vanwege het virus waren wij de enige gasten in het restaurant. Ondanks dat, was het erg gezellig en heeft de kok haar best gedaan voor ons. Echt een aanrader!
Christa Joosten
at 15 March 2020
Verified
---
"Heerlijk gegeten!"
Wij hebben heerlijk gegeten!
Marcel
at 13 March 2020
Verified
---
Wat een mooie verrassing om in dit pand te genieten van heerlijk eten!
De smaken klopten, de bediening was goed, de sfeer van het pand rustig en warm.
Een aanrader om ook eens te gaan!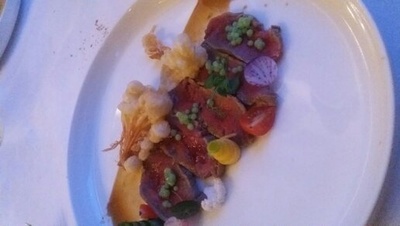 m brouwer
at 08 March 2020
Verified
---
"Verlaat valentijnsdiner"
Heerlijke avond met een verrassingsmenu.
Boven verwachting gegeten. Bediening was zeer goed. Gastvrouw was teveel gefocust om wijn aan te bevelen cq te verkopen. Na heerlijk dessert espresso besteld, werd ongevraagd een espresso compleet met zoetigheden op tafel en rekening gepresenteerd. Vonden wij het enige echte minpuntje van een heerlijke avond. Een aanrader.
Erik Westland
at 16 February 2020
Verified
---
Was goed eten in een mooi restaurant. Personeel wisselde wel veel. Vind ik persoonlijk wat minder. Mag bij sommige medewerksters wel geinstrueerd worden om echte interesse te tonen. Wat vragen en dan weglopen zonder het antwoord af te wachten vind ik voor dit restaurant beneden de maat.
Marga den Besten
at 09 February 2020
Verified
About Gasterij het Oude Posthuys
If you are looking for a characteristic restaurant with delicious food, this is the place for you. This restaurant is located in the authentic Posthuys in the center of the glass city of Leerdam and has been a household name in the region for years. Inside you will find a super cozy place with a classic look and a view of the church.
Chef Jean and her team cook pure and honest and in modern French dishes with an Italian and Asian twist. Looking for a matching wine? Chantal is happy to help you choose one from their impressive wine collection.
Reserve a table
Reserve a table