Popocatepetl The Mexican Arnhem
What 27 people say about Popocatepetl The Mexican Arnhem
Write a review
---
"Lekker hoor"
Was lekker. Formidabel
Rick Nieling
at 29 February 2020
Verified
---
"Heerlijk gegeten bij Popocatepetl "
Al vaker hier gegeten, kwaliteit is altijd perfect. Leuke vriendelijke bediening ook, een aanrader!
Ellen de Boode
at 22 February 2020
Verified
---
Super gezellig eten was lekker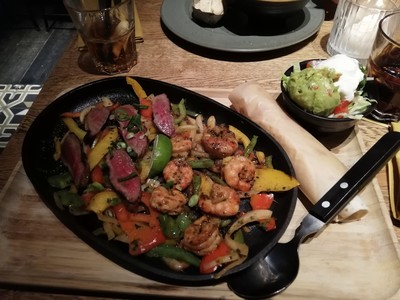 chris dorenbos
at 19 February 2020
Verified
---
"Goed "
Eten was goed, de tafels zijn wat aan de krappe kant en te dicht op elkaar geplaatst.
Tappie
at 03 February 2020
Verified
---
Het viel allemaal wat tegen. Het eten was niet slecht, maar ook niet heel lekker. De enchilada was vooral kaas, de fajita was beter.
De bediening was echt onder de maat, erg traag met drankjes serveren. Een keer moest ik zelfs twee keer bestellen.
Een mager zesje, meer niet.
Arjan
at 01 February 2020
Verified
Gele Rijders Plein 39 6811 AR Arnhem
About Popocatepetl The Mexican Arnhem
At restaurant Popocatepetl The Mexican in Arnhem you can enjoy a culinary experience with a Mexican twist during the day. Enjoy exotic drinks, snacks to share and Mexican comfort food together. Start your day the Mexican way with a hearty breakfast and end it with a Spicy Taco!
Hasta Pronto!
Reserve a table
Reserve a table