What 642 people say about 't Kalkoentje
Write a review
---
We hebben vaker bij het Kalkoentje gegeten. Altijd prima en vol lof. Maar wij vonden het eten dit keer tegenvallen. Vooral weinig en dat door een tafelgenoot die altijd vrij weinig eet. Ook het wijnarrangement was geen goede combinatie. Jammer want we hadden ons verheugd op een uitstekende lunch.
Hans Heij
at 15 October 2020
Verified
---
"Heerlijk gegeten, vriendelijk personeel, prachtige ligging en inrichting zwaar gedateerd "
Lekker gegeten
Prachtige ligging vast een belevenis om buiten te kunnen lunchen of dineren.
Vriendelijk jong personeel veel witte brigade aan tafel
Bij binnenkomst rook het erg naar oud frituurvet en binnen is naar onze smaak alles vrij gedateerd,zeker toilet mag opknapbeurt.
Gedateerd maar wel verzorgd
Jibel
at 08 October 2020
Verified
---
Hmm te weinig smaak wel prachtige borden en veel te kleine porties wijn arrangement duur en heel zuinig heb hier eerder meer dan uitstekend gegeten wellicht tijdelijke dip
Sofie Lange
at 03 October 2020
Verified
---
Genoten van een heerlijk 3 gangen diner .
Vriendelijke bediening .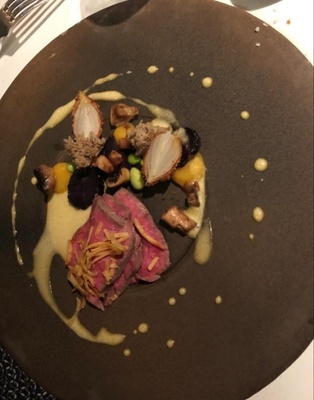 Ria van Doorn
at 01 October 2020
Verified
---
Fantastisch
Fons v. Velzen
at 01 October 2020
Verified
Utrechtsestraatweg 143 3911 TS Rhenen
About 't Kalkoentje
Restaurant 't Kalkoentje in Rhenen is located on the typically Dutch Lower Rhine. An oasis of tranquility and culinary indulgence where you can enjoy an atmospheric ambiance. Enjoy a cozy warm campfire in the winter and a sunny terrace in the summer. Restaurant t 'Kalkoentje does everything to surprise you time and time again! The dishes are diverse in taste and texture. The purpose of the restaurant is to ensure an unforgettable moment. Restaurant t 'Kalkoentje is looking forward to welcoming you soon.
Reserve a table
Reserve a table