What 454 people say about Van Vlaanderen
Write a review
---
Erg lekker gegeten. Heerlijke gerechten en prima wijnen. Wel een beetje jammer als je er thuis achter komt dat i.p.v. de beloofde €49 voor het afscheidsdiner toch de volle mep van €61,50 is betaald...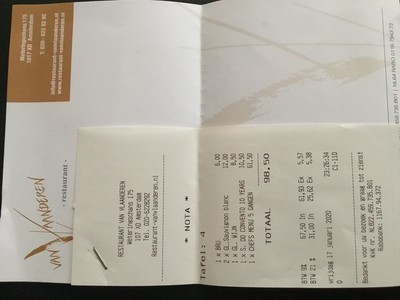 Bert v.d. Last
at 18 January 2020
---
"smakelijk gegeten bij Van Vlaanderen"
Prima en smaakvol gegeten en goed verzorgd. Porties aan de kleine kant, zou wellicht goed zijn om ook iets aanvullendserbij te serveren (kom rijst, boekweit, linzen of desnoods frietjes).
jn bong
at 06 December 2019
Verified
---
"Mooie avond"
Mooi restaurant met gemotiveerd, enthousiast personeel. Innovatieve gerechten met mooie smaken en ingrediënten. Infrastructuur kan nog iets verbeteren. Ontvangst is een beetje te klein en koud, ventilatie kan beter. Menukaartje op tafel zou ik leuk hebben gevonden. Verder alles top en een aanrader.
Marjolein
at 06 December 2019
Verified
---
Heerlijk gegeten in een prettige en ontspannen sfeer.
Mooie gerechten en goede wijnen
Marion
at 24 November 2019
Verified
---
Heerlijk gegeten!
Astrid
at 22 November 2019
Verified
Weteringschans 175 1017 XD Amsterdam
About Van Vlaanderen
Restaurant van Vlaanderen is located in the center of bustling Amsterdam. The restaurant is stylish, cozy and offers a beautiful view of the water. At Restaurant van Vlaanderen, hospitality is very important. The team consists of young people with a lot of ambition and experience. The kitchen serves
delicious French Mediterranean dishes. The menu consists of a good balance of meat and fish dishes that are finished with delicious sauces and delicious side dishes. Enjoy the culinary experience at Restaurant van Vlaanderen! Book a table quickly.
Reserve a table
Reserve a table