Deal

Delicious 4-course Chef's dinner in Veenendaal
Reserve a table
Reserve a table
Reservable till 31 March 2020
Not in combination with other offers
The price of the deal is per person
Reserve for free and pay in the restaurant
Only valid for online reservations through www.diningcity.nl
What people say of Mucha
Write a review
---
"best aardig eten, nauwelijks kans om ervan te genieten"
Het eten was best aardig, voor de prijs van de aanbieding, de volle prijs was het niet waard geweest. De sfeer in het restaurant was op zich gezellig, maar we stonden na anderhalf uur alweer buiten, terwijl we een 4 gangen menu hadden. We hadden hierdoor het gevoel dat we snel werden weggewerkt zodat de tafel na ons nog een keer gebruikt kon worden.
lekkerbek
at 16 February 2020
Verified
---
"Etentje in Veenendaal"
Prima restaurant, gezellig ingericht, prettige, professionele medewerkers
Philippus van den Berg
at 09 February 2020
Verified
---
Heerlijk gegeten voor een prima prijs!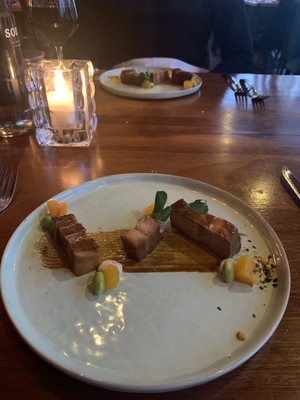 Daphne van Duijnhoven
at 02 February 2020
Verified
---
Eten was lekker en mooi geserveerd, prima !
Aggie
at 31 January 2020
Verified
---
"Diner Mucha"
Prijs-kwaliteit zeer matig.
Bediening: ongeinteresseerd/te gehaast.
Herman Spies
at 25 January 2020
Verified
De Sterke Arm 1 3901 EK Veenendaal
About Mucha
This restaurant is located at a unique location on the water near the center in Veenendaal. The modern appearance of the building and the atmospheric ambiance of the restaurant ensure that you feel completely at home on the water of the Grift.
Atmospheric dining by the water of the Grift canal. Beautiful location where you can eat and be amazed by the creativity of the chef. What do you think, for example, of a "Tartar of Butterfish with cream of avocado and a poached egg"? It is a fantastic appetizer with many different flavors. Or as a main course the Entrecôte from the Bradley Smoker lacquered with Surinamese marinade and a grilled bimi? Sounds very attractive, don't you think? Get to know striking dishes and be pampered by the staff in this beautiful restaurant.
Reserve a table
Reserve a table