What 51 people say about Nikos
Write a review
---
"Super"
Heerlijk eten, vriendelijk personeel
Jolex
at 07 September 2020
Verified
---
"Heerlijk sfeervol restaurant. "
Heerlijk gegeten met het gezin. Eten wordt mooi geserveerd ze maken er echt werk van. Prijs kwaliteit heel goed.
Diny
at 01 August 2020
Verified
---
We komen er vaak heerlijk eten gezellig gezellig bediening. Gratis koffie gekregen. Dus top tent bij nikos Pascal bedankt
Peter Baars
at 25 July 2020
Verified
---
corona onveilig,geen vragen geen aanwijzing handen desinfecteren,personeel gaat bij een gezelschap staan tussen de klanten en drinkt gezellig mee,ook werd er gezoend met een andere gasten.tafel werden met een gewoon stoffen natte doek afgeveegd en het overgebleven bestek laten ze liggen voor de volgende klant
pipo
at 20 July 2020
Verified
---
"Heerlijk en ontspannen gegeten bij Nikos"
Het was voor ons weer de eerste keer om na de Carona crisis te kunnen uit eten. We konden nog gebruik maken van de verlengde Gall&Gall bon. Via de bevestiging kregen we de tip, maak een mooie foto van het gerecht. Oeps dat waren we vergeten bij het zien van de mooi en ruim geserveerde gerechten. Hierbij een foto van het eind resultaat van een uitstekend smakende Dorade, gebakken op de gril.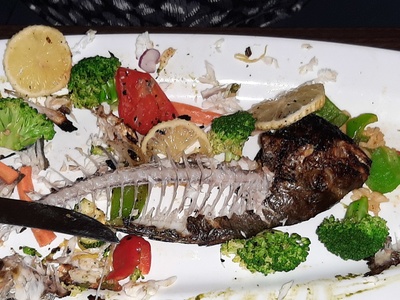 Ries Bode
at 06 July 2020
Amsterdamsestraatweg 751 3555 HH Utrecht
About Nikos
Restaurant Nikos is a Greek restaurant located in Utrecht and is known as a family restaurant.
There is a nice view over the Amsterdam-Rijn canal.
The restaurant is different from other Greek restaurant, because restaurant Nikos serves Greek tapas!
These Greek tapas is made of old Greek elements, which makes the taste of the dishes give you an ultimate holiday feeling. Next to the delicious dishes, the restaurant has a big wine cellar, where you can enjoy amazing Greek wines with your dishes.
The staff is very friendly, which gives you a warm atmosphere.
Enjoy a delicious Greek night at restaurant Nikos!
Reserve a table
Reserve a table